The project charter is a key project management document. It is created by (an output of) the develop project charter process.
From the PMBOK (page 72 of the fifth edition), the project charter identifies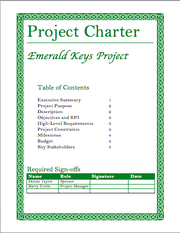 "Project purpose or justification,
"Measurable project objectives and related success criteria,
"High-level requirements,
"Assumptions and constraints,
"High-level project description and boundaries,
"High-level risks,
"Summary milestone schedule,
"Summary budget,
"Stakeholder list,
"Project approval requirements (i.e., what constitutes project success, who decides the project is successful, and who signs off on the project),
"Assigned project manager, responsibility, and authority level, and
"Name and authority of the sponsor or other person(s) authorizing the project charter."
The first two of the project charter components (purpose or justification and objectives) come from the project statement of work. The success criteria, requirements, schedule, budget, and identification of the project manager and project approval requirements are added to create the charter.[1]
The project charter should give a good overview of the project. The project charter is an input to many of the PMI processes. Some of those processes are
Related: Project statement of work, Business case, Agreements, Enterprise environmental factors, Organizational process assets, Sponsor, project manager
"Perhaps the best way to document the project manager's authority is through the project charter." ~Harold Kerzner[2]
External links
Edit
References
Edit
↑ Passing the #PMP—Project Statement of Work vs. Project Charter by Jerome Rowley. Posted on September 3, 2012.
↑

Project Management: A Systems Approach to Planning, Scheduling, and Controlling, 11th Edition, p 232-234.